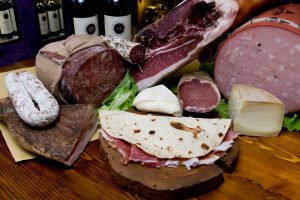 Among Romagna's exquisite gastronomic specialities, the one that best represents the region is undoubtedly the piadina, now known and eaten throughout Italy and beyond. This food was originally used as a substitute for bread by many peasant families, even as a main meal, thanks to the feeling of fullness its dense texture imparts. In those days it was the azdora, the head of the household, who prepared the piadina, with a dough made of flour, water, lard, and salt that, once combined, was divided into balls and then flattened with a rolling pin to give them their characteristic circular shape. The final step was to cook them quickly on a terracotta tray, during which the air would fill with the characteristic scent, bringing everyone in the house close to the stove, waiting to enjoy them. It is thanks to these traditions that the Romagna piadina is still considered an excellent food today, thanks to its goodness, simplicity, and how quick it is to make. The "cooking speed" was as important then as it is fundamental in the present day.
And the tradition continues…
Now, if you happen to go to Romagna for work, or even better on holiday, you will soon see how the piadina is the product that truly represents the region.
It's found everywhere, from in the typical and colourful stalls in the streets, to above all the bars and restaurants on the beach of the Romagna Riviera. So in summer it's definitely the food most consumed by the thousands of holidaymakers who fill our beaches, and that is why one day, back in their homes, in their own countries, savouring a piadina, they will remember with a hint of nostalgia those beautiful sunny days by the sea stretched out under an umbrella, and the cool evenings spent by the water during their holidays in Romagna.